Numa (2023) explores the history of mass graves created by the Colombian army, the guerrillas, and the paramilitary forces throughout Colombian territory. It recontextualizes the first scene of the fifth act of Hamlet, in which the Danish prince returns from exile in England and walks through a cemetery. Numa is also the name of a character that has come to symbolize displacement. On her hands, she has an equine jawbone, an ancient instrument that coincides with several musical traditions throughout Latin America. Numa speaks to and through this broken jaw. She interacts with this reverberating rattling bone to connect with her ancestry, confront her mortality, and question the repetitive and cyclical nature of violence and trauma.
The accompanying score alternates between noise, traces of traditional Colombian music, and the distorted mention of names of disappeared civilians, especially women in the Magdalena region, which play out like a dream sequence that deploys an image of Numa's interiority.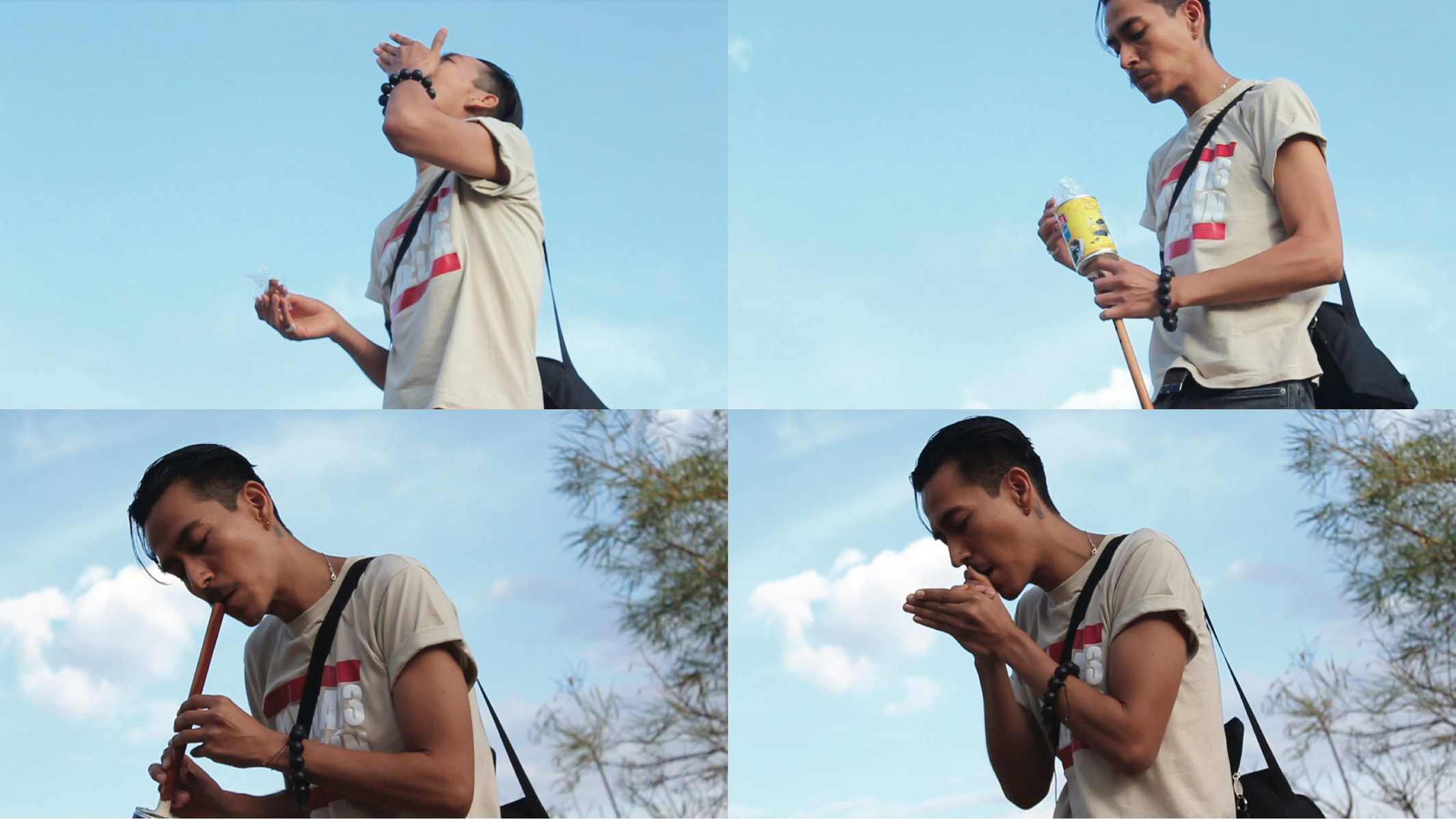 The All-Pervading Melodious Timbre of a Can of Beans (2019) explores the potential of sound as a medium to recontextualize colonial histories and reclaim spaces. This performance took place at an old textile factory in San Agustín Etla, Oaxaca, Mexico.
The All-Pervading Melodious Timbre of a Can of Beans appropriates a European woodwind instrument, adding an extension fashioned out of an empty can of refried beans. This customization rooted in hybridity amplifies and distorts the sound—idyllic and gentle melodies turned hoarse and vociferous.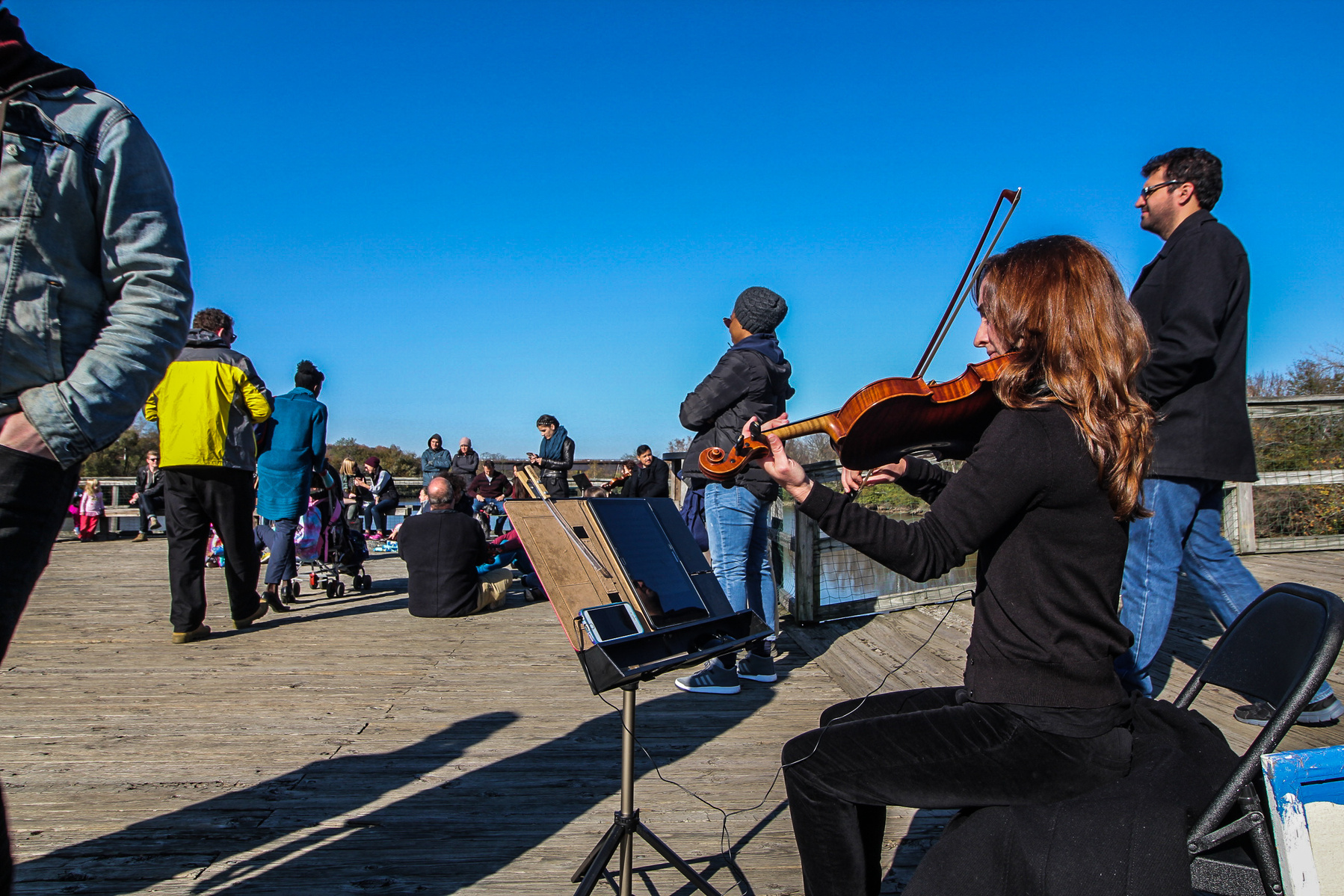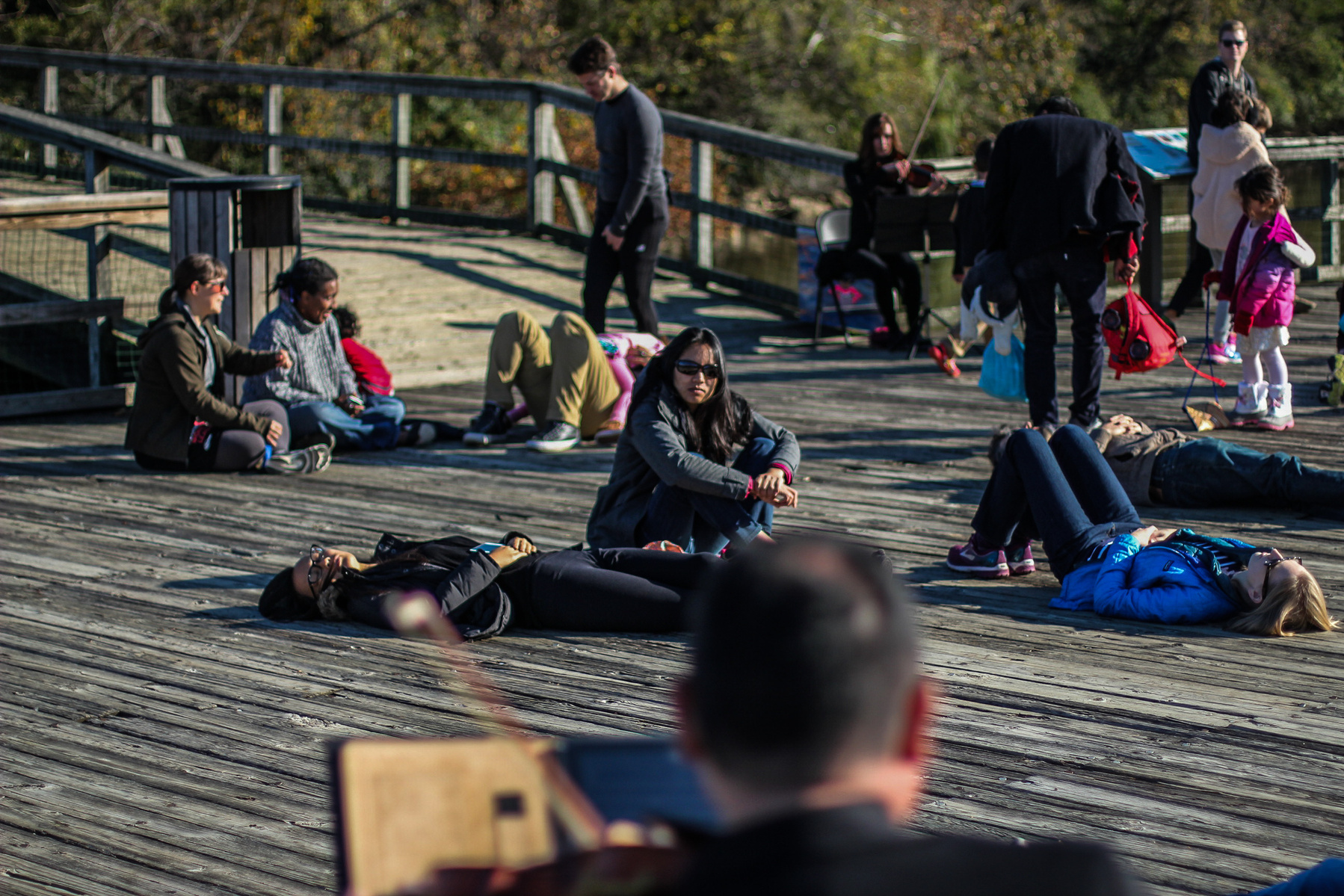 Concerto on the River (2018) examines the cognitive, sensory, and emotional implications of equitable access to the arts, especially within geographical locations affected by sharp socioeconomic divisions. Realized in collaboration with Chad Cunha and performed by the Cherry Blossoms String Quartet, this happening took place outdoors on an expansive pedestrian bridge over the Anacostia River in Washington, D.C. Concerto proposes the transformation of normative performance models.
Concerto on the River suspended the traditional signifiers of a classical music concert and challenged sonic and spatial boundaries by decentralizing the performers. These musicians dispersed across the platform between Kingman & Heritage Islands, stretched over broad distances, pushed sonic boundaries, and physically opened space for the audience to occupy deliberately.

Conceived as a public event, Concerto on the River attracted the neighboring community, establishing a dialogue between the performers and an audience that would not customarily engage with contemporary art.
The Cherry Blossoms String Quartet performed Water Music (1717). Composed by George Frideric Handel and commissioned by King George I.